<![if !vml]>

<![endif]>
Freedom of Information Act (FOIA)
Direct link to this page: foia.globe1234.com
General FOIA Links
States have distinct rules for how you get information from state and local government, including schools, etc. (NFOIC, RCFP). State and local Courts have their own rules. If local governments resist, they may respond to group pressure from voters.

MuckRock

helps file and track FOIA requests to all levels of government in the US ($20 for up to 4 requests). They cooperate with

FoiaMachine

, free, which lets users track requests, while

MuckRock

offers a "full service" which submits requests, follows up, and posts results online. (If you file an appeal through

MuckRock

, file early so if it falls between the cracks, as happened to me on an FBI appeal, you can file the appeal yourself within the 90-day deadline.
FOIA group is a commercial version ($125 or more per FOIA), and they were reported to have government contracts processing requests.
Many other countries have FOIA laws, described by GIJN and RTI (column titled "Article" has details). Requesters in several countries use standard (

Alaveteli

) software, German and Austrian software or other (

FOIAdvocates

,

FOIAnet

). Most countries have better laws than the US.
Using public government data is always faster than FOIA. Each US agency has an electronic "Reading Room" with its adjudication orders, policies, manuals, and commonly requested items. Politico used usaspending.gov to find the HHS Secretary's use of chartered jets.

Oversight.garden

has Inspector General reports. Agency websites have vast information.

Private businesses and nonprofits

are typically not subject to FOIA. However work under government contract is often available by asking the government agency and getting a lawyer to insist. For business-government partnerships, you can ask the government partner. For example 9 medical groups serving 7 million patients in the Los Angeles area issued a press release promising "shared-decision making with patients" at the end of life. They did not release their actual guidelines. One participant was UCLA, so I got them under California's Freedom of Information Act.

Haggle on fees

, which depend on state law and local quirks. If the first price is high, ask for a lower price. The 67 Florida counties gave wildly different prices for the same requests on election data, unrelated to size.
​Individuals don't need a lawyer at any stage, even going to court, and organizations only need a lawyer in court. For hard cases many people value advice and representation by a lawyer, but if you don't want to spend that much, see the sections below on learning from similar cases and representing yourself in court.
To find an expert lawyer, you can search for cases like yours in

CourtListener

, to see which private lawyers handle cases like yours, and see their work.

Reviews by clients: Avvo (background)

Ratings of lawyers by lawyers; most aren't rated: Martindale,

BestLawyers

,

SuperLawyers

Some companies rate their outside counsel with

Qualmet

's

brief questionnaires ($)

​Other search sites for lawyers:

Findlaw

, Nolo,

Justia

, Lawyers.com
Filing for Federal Information:
<![if !vml]>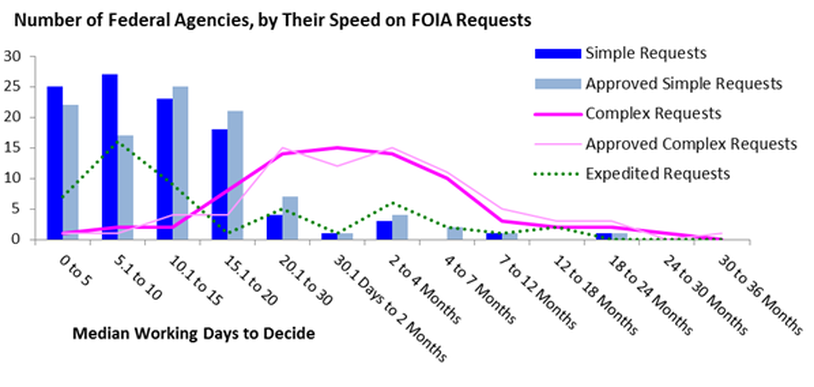 <![endif]>
How Long Will You Wait for Federal Information?
The median time to answer simple requests is within 20 working days at 80-90% of federal agencies. Simple means under 500 or so pages from one location, but each agency has its own criteria.
It will often be faster if you ask first for any records which may have already been released to others. These records have already been "pre-processed." If they've been released to several others, they should already be in the agency's online Reading Room. Agencies have internal indexes to check if they have released records covered by your request before. On the other hand if you already have those records, you can tell the agency just to send additional records, so you don't have to pay for duplicates.
Here is the median decision time in 2016 for each agency which received over 300 requests that year. For parts of agencies (like FBI) and smaller agencies, see the annual reports, Table VII. A.
| | | | |
| --- | --- | --- | --- |
| Major Agencies | Simple Requests, Median Weeks | Complex Requests, Median Weeks | No. of FOIA Requests Received in FY2016 |
| DHS | 2 | 16 | 325,780 |
| DOJ | 3 | 18 |  73,103 |
| DoD | 3 | 20 |  53,544 |
| NARA | 3 |  122 |  49,966 |
| VA | 1 | 4 |  34,459 |
| HHS | 3 | 9 |  34,232 |
| SSA | 2 | 14 |  29,631 |
| State | 33 | 78 |  27,961 |
| USDA | 0 | 5 |  23,870 |
| EEOC | 4 | 6 |  17,680 |
| U.S. DOL | 1 | 2 |  16,196 |
| SEC | 1 | 0 |  14,458 |
| DOT | 3 | 4 |  13,800 |
| Treasury | 1 | 4 |  12,368 |
| EPA | 3 | 9 |  10,403 |
| OPM | 0 | 4 |  10,189 |
| DOI | 1 | 3 | 6,428 |
| PBGC | 1 | 3 | 3,713 |
| USPS | 1 | 5 | 2,718 |
| NLRB | 5 |  - | 2,679 |
| CIA | 6 | 31 | 2,547 |
| ED | 1 | 9 | 2,445 |
| HUD | 3 | 8 | 2,345 |
| DOC | 3 | 9 | 2,026 |
| DOE | 3 | 14 | 1,974 |
| FTC | 1 | 3 | 1,260 |
| SBA | 1 | 4 | 1,116 |
| GSA | 2 | 7 | 957 |
| FCC | 3 | 29 | 836 |
| NASA | 2 | 5 | 834 |
| USNRC | 1 | 5 | 785 |
| FRB | 1 | 7 | 728 |
| U.S. CPSC | 3 | 9 | 702 |
| CSOSA | 4 | 8 | 627 |
| NTSB | 88 | 18 | 471 |
| FDIC | 2 | 5 | 465 |
| CFPB | 2 | 7 | 442 |
| ODNI | 1 | 47 | 382 |
| USAID | 3 | 22 | 377 |
| NSF | 3 | 6 | 348 |
| US Average | 5 | 23 | 759,842 |
Will it be faster if you go to Court?
If you don't get the information as fast as this table shows, you can go to court, with or without a lawyer, as discussed below. Many requesters get documents soon after filing suit, since the Justice Department assigns a lawyer to represent the government, and s/he takes a fresh look and often convinces the agency to release documents, rather than lose in court. There's an anonymous saying, "For a $400 filing fee I get a Justice Department lawyer who really knows the law as my FOIA officer!" You can find out about Rule 41(a), Voluntary Dismissal, if the case gets deeper than you can handle.
When considering whether to give up, wait or sue, The New York Times said in 2019, "If requesters always shrug and walk away at that point, it means we are leaving it to FOIA bureaucrats to decide just how secret our government is going to be. And in

2017

they added, By suing regularly, we hope to achieve two things. We put agencies on notice that we will take them to court if our requests are not handled properly, and it gives us a shot at shaping the law through court decisions."
Individual reporters file more suits than newspapers in recent years, and there is a list.
A former State Department lawyer, now making FOIA requests for a nonprofit says, "where we distinguish ourselves is that by litigating, we solve one of the fundamental challenges

thats

at the heart of the public records system, which is that whether through a lack of resources or obstruction,

its

very difficult to get information in a timely way.
The lawsuit that we filed with the FCC was over net neutrality, and through that, we established ourselves as quite an advocate on that issue and interested in that issue. Since wed already shown the FCC that we

werent

afraid to sue over net neutrality related documents, the FCC gave us the comment system crash records without a fight.

Thats

actually a really wonderful example of how our engagement in litigation identified us to the FCC as a requester

whos

willing to go to court."

It is possible to go to court if a request takes longer than (a) agency's median time, and (b) 20 working days. Courts expect first-in-first-out processing within each track (simple, complex, or expedited) (p.47, DOJ Litigation Considerations), so no request should take more than the median.

NSArchive

says, "it is productive to talk with the agency and wait a reasonable time for the agency to process the request." They do not say what is reasonable, so you can judge if the median is a reasonable time. DOJ guidance tells agencies themselves how to estimate reasonable times for completion, "Agencies that utilize multi-track processing can also consider the agency's average processing times for its various tracks. This information is readily available in the agency's Annual FOIA Report and on FOIA.gov.​"
Some requests take much longer than the median, when requesters do not take the agency to court. 1% take over 14 months.
Complex requests mean you want a lot of information, or from multiple locations,

etc

. Median time to answer is within four months (84 working days) at three quarters of federal agencies. Agencies typically do not tell you if they put the request in the simple or complex track.
Expedited

requests mean you convinced them to process on a special track, usually because you need a lot of information for a deadline. This special track can take nearly as long or longer than complex requests. Each agency's regulations explain how to request expedited, if you think it will be helpful.

Check the annual report. They're hard to follow, but table numbers seem standard: Table VII. A shows median days to decide at each part of an agency, such as FBI (in Justice) or Medicare (in HHS). Instructions tell agencies to count working days (p.8). I would generally feel comfortable waiting that many days, but going to court soon after, unless the agency convinces me a decision is imminent.
Annual reports also show their approval rate: compare full and partial "grant" in table VI. B. (1) to number "processed" in table V. A. There's no detail, and this mostly reflects simple requests, so we don't know the approval rates of complex or expedited requests. It may be worth waiting longer for a simple request if the agency approves most of them, or if they reverse most denials on appeal (tables VI. A. and VI. B.) and decide appeals fast (table VI. C. (4)).

Summary spreadsheet shows 2016 processing times and approval rates at cabinet departments and independent agencies.
I've waited too long, but eventually I took them to court without a lawyer, and got the information quickly.
How to Find and Learn from Similar Cases in Federal Court?
Searchable list of federal FOIA appeals in court, by agency, topic, judge, name, date, location, etc. (

FoiaProject

) has docket of each case and free copies of some documents.
Searchable list of all federal cases. You can search on FOIA, name, agency, location, judge, etc. (CourtListener.com). Not as good a search as

FoiaProject

above, but it also has non-FOIA cases and free copies of many documents.
All federal court documents are at Pacer, which is free for under 150 pages per calendar quarter, and 10 cents per page otherwise. Installing an app in Firefox or Chrome lets you get free copies from

CourtListener's

free archive, and add to it whenever you pay for documents from Pacer. Search tips.

Lists of



FOIA appeals in court



opened & closed (US Dept. of Justice) not as detailed as

FoiaProject

above, but more complete on results. ​

State courts

do not have good ways to search, but you can search state supreme court opinions. Private newsletters in CA, FL, IL, LA, MO, PA, TX and WV report civil cases (all are listed at the bottom of the link). A group is collecting descriptions of the record systems of state courts, including what is online, and what you can search onsite.

The following graph summarizes final federal court outcomes on FOIA in fiscal year 2016. The public won some information by settlement or court decisions in at least 60% of court cases, and may have received some information even when the final court decision on the last information went fully to the government.
<![if !vml]>

<![endif]>
The Federal Circuit Court for DC ruled in Payne v. US, 837 F.2d 486, 494 (D.C. Cir. 1988), that courts don't just order release of documents; they can stop an "impermissible practice" at any agency by declaratory and/or injunctive relief. A US District Court used this authority in 2011 to rule that agencies must provide estimated completion dates (

 

552(a)(7)(B) ).
When a court orders legal fees, it can order investigation of FOIA staff who seemed arbitrary or capricious (p.125, DOJ Litigation Considerations) but not without ordering legal fees, so not in FOIA cases brought by individuals without a lawyer. The 6 times lawyers asked the courts for such investigations from 2013-2016, courts said no.
Represent Yourself in Court?
US Justice Department:
Regulations:
Besides the law, each federal agency publishes regulations (also called rules) to carry out the law. To find them try a search engine, after you change name_of_agency to the agency you want:
name_of_agency

"freedom of information" site:law.cornell.edu/cfr
There is another search at ecfr.gov, but it is not as complete. Agencies also have internal guidance, which MuckRock obtained by FOIAs. They focus on just one of the exemptions, but include guidance on other issues.
FOIA at Medicare, Health and Human Services
Like other agencies, the Department of Health and Human Services (HHS) has rules for FOIAs, and each major office in HHS also has rules. The overall HHS rules on FOIAs, adopted in 2016 are at:
https://www.federalregister.gov/documents/2016/10/28/2016-25684/freedom-of-information-regulations
Former rules at HHS were in effect for decades and are at:
https://www.gpo.gov/fdsys/pkg/CFR-2015-title45-vol1/pdf/CFR-2015-title45-vol1-part5.pdf
There were lots of changes. For example on appeals, after they deny a FOIA, an improvement in the new rules is:
Worse in the new rules:
They give less detail about what should be in the appeal letter

When they grant an appeal, now they'll "reprocess your request" which is pretty vague. Previously their rules said they had to "send the records to you promptly or let you inspect them, or else we will explain the reason for any delay and the approximate date you will receive copies or be allowed to inspect the records."

They have a new rule that they'll stop processing a FOIA appeal when a requester files a lawsuit. Lawsuits did not freeze processing under the old rules, and in fact HHS sometimes released records in response to a suit, without waiting for a judge to decide.
It is not clear how these HHS rules interact with separate FOIA rules at sub-agencies of HHS. For example the Centers for Medicare and Medicaid Services (CMS) has its own rules, which still say 30 days to appeal, and do not address the freeze in processing during a lawsuit. CMS rules are at
https://www.law.cornell.edu/cfr/text/42/part-401/subpart-B
and CMS also has policies at
http://www.cms.gov/Regulations-and-Guidance/Legislation/FOIA/Downloads/FOIAProcessingPolicyProceduresGuide-.pdf
Example of a FOIA for Documents which Medicare Gives to Accountable Care Organizations
Text of FOIA from Paul Burke submitted online July 15, 2013, Control # 071620137079
Denied Feb 25, 2015 in a letter from Medicare, then released June 8, 2016
Court case and settlement discussions